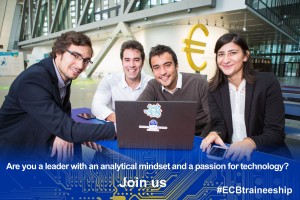 As a trainee at the ECB, you will be able to:
apply the knowledge gained during your studies;
acquire new skills for your future career;
work in a multicultural, dynamic and professional environment.
Who are we looking for?
Innovation enthusiasts and business-savvy graduates with a background in Sciences or Technology, and with a strong interest in IT.
In particular, European graduates in Engineering, Computer Sciences, Maths, Physics, Business informatics, Information Systems, Data Science, Quality management, Project management, IT governance, or alternatively with a curriculum including electives in Science and Technology.
What are we offering?
A unique opportunity to apply your skills and the knowledge acquired during your studies, enhance your employment prospects in the job market, and gain exposure to real projects and challenges in a vibrant international environment.
ECB trainees receives 1.070€ monthly, plus accommodation, a lump sum for travel costs, and a discounted ticket for public transport.
We have a wide range of trainee projects and assignments: in the vacancy notice there's good a selection to provide the applicants with some ideas.
See: https://www.ecb.europa.eu/careers/pdf/Traineeships_in_Computer_Science_and_Technology.pdf
Every trainee is assigned to a mentor to facilitate their integration within the Organisation.
How long is the traineeship?
Placements are from 6 to a maximum of 12 twelve months in duration.
The selected trainees will start in 2020, from early spring to autumn, depending on the agreement between the two parties.
Deadline for application:
21 October
How to apply:
Via our website: https://jobs.ecb.europa.eu/sap/bc/bsp/sap/z_hcmx_ui_ext/desktop.html#/DETAILS/005056853E201EE9B7C2216FA6EB756A/
The applicant needs to create a profile on our recruitment platform and apply for this position.
For further information/questions:
Join our virtual event on Graduateland.com on October 16th