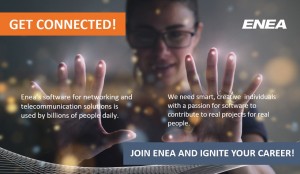 Job description
We are looking for an engineer to work in our R&D group dealing with the foundations of our Telco and enterprise-oriented software work, integrating the components into complete products. We are looking for a problem-solving person who is communicative, proactive and wants to be a major factor in the success of our solutions from large mobile operator's networks and small-campus.
As a member of the Infrastructure team, you will be a part of an team focused on understanding Linux/cloud environments, working directly with our large private datacenter's infrastructure and collaborating with other members of R&D.
Your skills
If you are a highly motivated, fast learning, accountable and pro-active person who is ready for challenges and have experience with any of the following technologies (the more the better), you are a suitable candidate for us:
Essential Criteria:
Strong background with Linux (from installation through command-line based maintenance)
Basic scripting (shell, python and similar languages)
Understanding of IP networking
Proactive
Communicative
Desirable Criteria:
Infrastructure as code and versioning systems (Git / GitLab, Ansible, …)
Experience in storage solutions, hardware, network architectures
Containerization technologies (Kubernetes, Docker, …)
Virtualization technologies (VMWare vCloud/vSphere and/or OpenStack)
Cellular 4G/5G mobile network architecture
Not to worry though, we are ready to consider younger as well as more experienced engineers to our team. We do not expect you to necessarily know all that at the same time in-depth, working with our senior experts you'll be well supported in developing your skills!
We expect all to have excellent communication skills in Croatian and English (spoken and written).
You will likely have a university degree that has introduced you to information and communication technologies, while equivalent experiences within the domain will be taken into consideration.
We'd love to hear from you!
If you are interested, please apply via link by 16.02.2022.
Candidates that pass pre-screening will be contacted.